Best Immigration & Visa Lawyers in London. Free Appointment & Free Advice
Stratford, London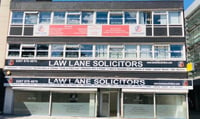 Description

Law Lane Solicitors has a team of expert immigration Lawyers and they can also assist with most types of legal matters. We are based in Stratford in East London and less than 5 minutes walk from the Stratford Underground. Call us now to find out more. 25 Appointments per day are offered free of charge.
EU applications
Family Visa applications
Adult Dependant Relative applications
All type of Work Permit based visas
PBS dependant visa
Ancestry visa
Long residence applications under the Illegal/Overstayer Routes
Long Residence under the legal routes
Indefinite leave to remain cases
Naturalisation
Sponsor licence applications
Asylum matters
Sole Representative Visa
Skilled Worker applications
Visit visa applications
Student Visa
Tier 5 Youth mobility visa
Charity Worker Visas
Care Visas

We hold quality marks in various areas including Immigration & Asylum.
Please read our reviews on Trust pilot and on Google.


Ad ID: 1440209056
Stay Safe
"Be wary of buyers asking to use 'Gumtree delivery' or 'Payments on Gumtree' for anything other than private cars"

"Gumtree does not offer delivery or payments for anything other than private cars; requests from Whatsapp or SMS could be scams"
Read all safety tips