Tax Return, Limited Company, CIS, Payroll, Vat, Chartered Certified Accountant & Tax Consultant
Ilford, London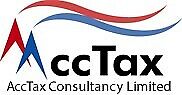 Description
Chartered Certified Accountant & Tax Consultant, Romanian Tax advisor Available.
Offices in STRATFORD London, and WEMBLEY.

SPECIALISATION: On Limited Company, Sole Trader and Taxes - VAT, PAYROLL, Self-Assessment Tax Return, Accounts, Corporation Tax, Property Tax, Capital Gains Tax, Tax Investigation etc.

OUR CLIENTS: Construction, CIS, Subway, Post office, Restaurant, Estate agent, SOLICITOR, Landlords, Freelancers, Pub/Bar, College, Care home, IT, Doctors, Nurse, Car garage, Couriers, Builders, Plumbers, Property portfolio, Gardeners, Retails and Wholesales, Film & Media, Beauty & Cosmetic clinic etc.

Contabilitate la preturi avantajoase & quot; Contabil Autorizat . Romanian TAX CONSULTANT available.

We open for 6 days. Weekdays 9.30 am to 7.30 pm,

✔️ CIS, Self-Assessment Tax Return.
✔️FREE Limited Company Formation and Bank Account
✔️ UTR and NI Registration
✔️ VAT and Bookkeeping
✔️Payroll / Payslips
✔️ Accounts for Limited Company and Sole Trader
✔️ Corporation Tax and Property Tax - Rental Income, Capital Gain Tax.
✔️ Business Advice
✔️ Liquidation and Bankruptcy assistance
✔️MORTGAGE assistance and planning for you
✔️SOLICITOR's Audit arrangement.

Please contact:
ACCTAX Consultancy Limited
Chartered Certified Accountant & Business Advisor

Daniela Sticlaru MAAT – Head of CIS/VAT and Self-Assessment
Tapan Saha FAIA, FCCA – Managing Director
Ali Hasan MSc, FCCA - Consultant
Dhruba Shrestha MBA, ACCA - Practice Manager
Agni Bhandari MBA, ACCA - Accounts Manager

STRATFORD OFFICE: 107-109 The Grove|Stratford|London|E15 1HP
WEMBLEY OFFICE: Continental House|497 Sunleigh Road|Wembley|HA0 4LY

Visit us on the WEBSITE and See our GOOGLE and YELL review -AccTax Consultancy Ltd

ROMANIAN Accountant and tax advisor. CONTABIL ROMAN AUTORIZAT
Accountant in Stratford, Accountant in Stanmore, Accountant in the city, Accountant in Bank, Accountant in Liverpool Street, Accountant in canary wharf, Accountant in London bridge, Accountant in Eastham, Accountant in Walthamstow, Accountant in East London, Accountant in Southeast London, Accountant in the City, Accountant in Forest Gate, Accountant in Leytonstone, Accountant in Ilford, Accountant in Barking, Accountant in Mile end, Accountant in Whitechapel, Accountant in Oxford street, Accountant in Covent garden, Accountant in Leicester square, Accountant in London Bridge, Accountant in Redbridge, Accountant in Woodford. Bengali accountant, Romanian Accountant, Bangladeshi restaurant specialists.



Ad ID: 1320142358
VAT number: 261737790
Stay Safe
"Be wary of buyers asking to use 'Gumtree delivery' or 'Payments on Gumtree' for anything other than private cars"

"Gumtree does not offer delivery or payments for anything other than private cars; requests from Whatsapp or SMS could be scams"
Read all safety tips